New Release: Master of Machines by Starla Huchton
Woohoo! We've got a new book to tell you about!
This week, Starla Huchton released Master of Machines, the sequel to Master of Myth in her Antigone's Wrath steampunk adventure series. It's available in the Kindle store and Kindle Unlimited now, with a print version forthcoming. Master of Myth is on sale now to help you get started with this series.
Look at that cover! Huchton designs covers and took the photograph for this one, so check out model Ms. Amanda Daws facebook as well as Starla Huchton's designedbystarla.com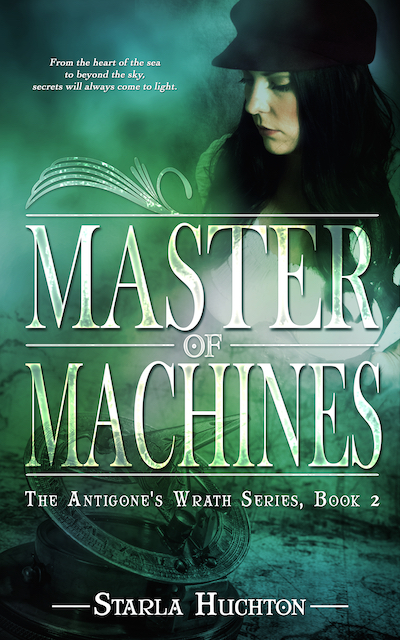 Book Description:
The crew of the Antigone's Wrath returns for more adventures around the world! 

Two years after the devastating events on Yonaguni island, the consequences are still rippling through Captain Rachel Sterling's life. Unable to bring herself to replace what she lost in that tragic affair, both she and Danton DuSalle are stretched thin. When the master-at-arms is crippled by his spreading "condition," Rachel has little recourse but to turn to the only man who might be able to help. 

Silas Jensen never expected to return to the Antigone's Wrath, but has an utter inability to say no when Rachel comes crashing back into his life. Between explosions and being shot at, he didn't think it was possible for things to get worse, but the never-ending mysteries of Rachel's heritage make every step more difficult than the last. 

In a race against time, Rachel and Silas chase a legend across the globe, but are their new allies as benevolent as they seem? Even millennia can't keep some secrets buried.
You can find the book here:
View StarlaHuchton.com for the original announcement and more:
Wherein I Mess With History