#TeaserTuesday Cover Reveal: Cursed Hearts!
Starla Huchton's Cursed Hearts, the second book in the Hearts of Valentia saga, comes out November 1st! She has a cover reveal and a sneak-peak excerpt on her blog. I couldn't resist posting the cover and blurb here for you: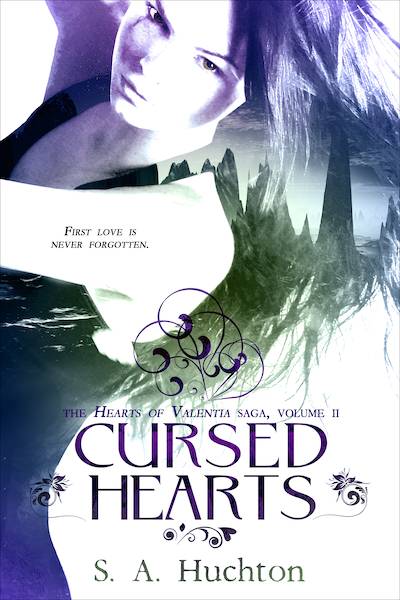 Cursed Hearts
The Hearts of Valentia saga, Volume II
By S. A. Huchton
At nine years old, Polliandra Quicke became the unwitting victim of a powerful spell, binding her to her best friend. Separated by years after Donnel's sudden disappearance, Polly seeks answers when her kiss destroys two would-be suitors. Forced by circumstance to become a curse breaker for hire, she travels Valentia in search of a way to free herself; to take back her choices and a chance for a normal life.
Led to the Spires of Elonui, Polly appeals to the council of mages, beseeching their help. Their solution: a quest into the heart of territory overrun by Torn Ones, accompanied by a young mage whose eyes hold her captive. Lyre Aven might be the most frustrating person she's ever met, but he's her only shot at freedom.
First love can be a curse, but the closer she gets to an unbound life, the more she wonders if the magic that sealed her fate wasn't a blessing in disguise.
Don't want to miss Cursed Hearts on November 1st? You can sign up for her author newsletter on the sidebar of her website.